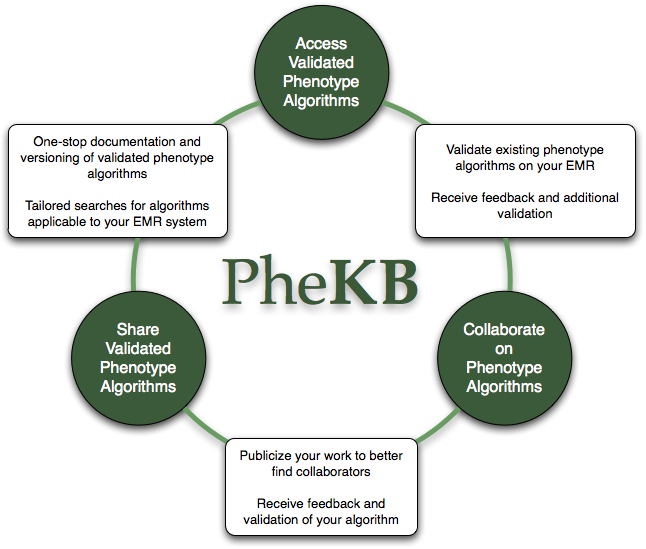 Electronic medical records (EMRs) are becoming an increasing important source of phenotypic information for clinical and genomic research. Researchers create and iteratively refine phenotype algorithms using structured and unstructured data to achieve high positive predictive values to identify true cases and controls from EMR data. The Phenotype KnowledgeBase (PheKB.org) is an online collaborative repository for building, validating, and sharing electronic phenotype algorithms and their performance characteristics.  
On PheKB you can:
Phenotype algorithms can be viewed by data modalities or methods used:
ICD and CPT codes
Laboratories
Medications
Vital Signs
Natural Language Processing
Algorithms can also be viewed by:
Resources for Phenotyping
Phenotype Design Resources:
Phenotype development and validation. In this two-stage process a primary site first develops and executes the phenotype (boxes), and then  secondary sites execute the phenotype. At each step feedback to primary and secondary sites may lead to revisions in the methods.*
* Newton KM, Peissig PL, Kho AN, Bielinski SJ, Berg RL, Choudhary V, Basford M, Chute CG, Kullo IJ, Li R, Pacheco JA, Rasmussen LV, Spangler L, Denny JC.Validation of electronic medical record-based phenotyping algorithms: results and lessons learned from the eMERGE network. J Am Med Inform Assoc. 2013 Jun;20(e1):e147-54. doi: 10.1136/amiajnl-2012-000896. Epub 2013 Mar 26.
Validation methods Resources:
Building data dictionaries for phenotypes  
eleMAP

- This allows researchers to harmonize their local phenotype data dictionaries to existing metadata and terminology standards such as the caDSR (Cancer Data Standards Registry and Repository), NCIT (NCI Thesaurus) and SNOMED-CT (Systematized Nomenclature of Medicine-Clinical Terms). Use this tool to search/browse metadata related to different studies, create new study & its related metadata, users can also export metdata in excel format.